GOtv YaQatar – All FIFA Matches Available on GOtv Supa, Max, and Jolli packages
Customers on GOtv now have access to all the FIFA World Cup matches when they subscribe to the GOtv Supa, Max, or Jolli packages.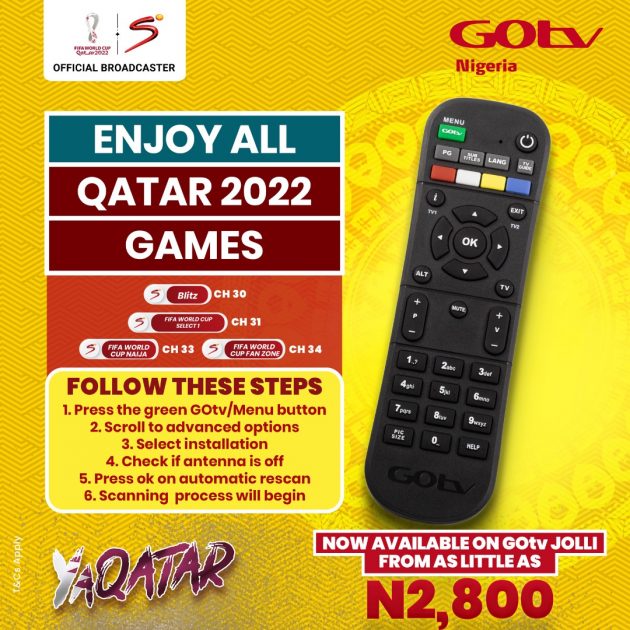 MultiChoice Nigeria, the official broadcaster of the tournament, has announced that the dedicated World Cup Channels – WC Select 1 Naija (channel 31), WC Central (channel 32), World Cup Naija (channel 33), and WC Fan Zone (channel 34) – will now be available customers, not only on the GOtv Supa package but also on GOtv Max and GOtv Jolli packages.
This means that customers will now get to enjoy all aspects of the YaQatar experience as the remaining games of the biggest sports tournament as well as the exciting fan moments will be at their fingertips.
That's not all, GOtv customers get to experience watching live commentaries in their preferred local language including Pidgin, Hausa, Igbo, and Yoruba among others as MultiChoice brings the best sporting entertainment experience to make the World Cup games memorable.
New customers can take advantage of the GOtv price slash promo as GOtv decoders will now be sold for N4,900 instead of N6,900, with a one-month Jolli package subscription. If you don't have a GOtv decoder, there is no better time to join the train that offers you unrivalled sporting and entertaining content.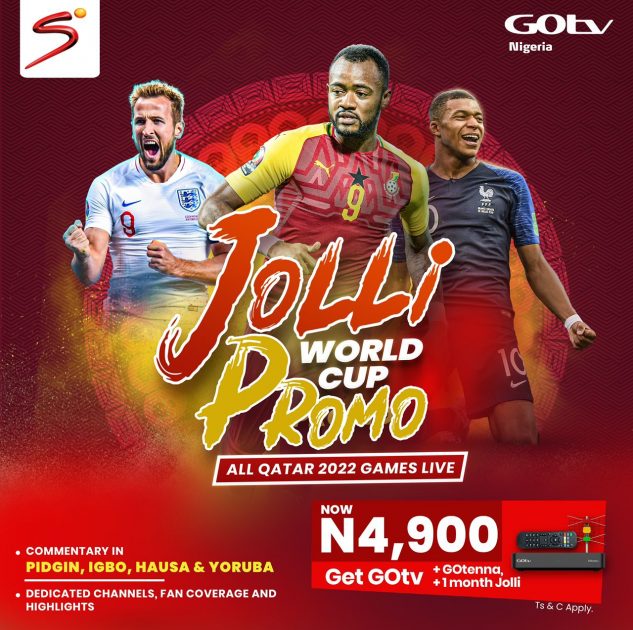 Stay connected to enjoy all the live sporting action from the FIFA World Cup. Download the MyGOtv app to subscribe or upgrade or set up Auto-Renewal to stay connected without interruptions. You can also dial *288# to recharge.