Youtube has pulled down an episode of Dr Damages Show in which David Hundeyin spoke on President-elect Bola Tinubu's Guinean diplomatic passport.
Dr Damages Show is hosted by Rudolf Okonkwo, a teacher of Post-Colonial African History at the School of Visual Arts in New York City.
A screenshot of YouTube's message informing the show host that the episode has been taken down was seen by iReportnews.
It reads: Hi Dr. Damages, We wanted to let you know our team reviewed your content, and we think it violates our policy on personally identifiable information. We know you may not have realised this was a violation of our policies, so we're not applying a strike to your channel. However, we have removed the following content from YouTube:

Video: David Hundeyin on Bola Tinubu's scandals & the future of investigative journalism in Nigeria."
Last Saturday, Mr Hundeyin, an independent journalist, posted a data page of a Guinean diplomatic passport bearing Mr Tinubu's name and photograph. Mr Hundeyin's Twitter page was later blocked by the microblogging site, citing a breach of its rules.
As a follow up on the expose that saw Mr Tinubu trend over the weekend, Mr Hundeyin featured on Dr Damages Show on Sunday, speaking about the president-elect's dual citizenship.
Mr Tinubu's Guinean diplomatic passport expose is the latest of controversies surrounding the 71-year politician's life.
The president-elect's diplomatic passport saga contradicts his declaration under oath on the EC-9 form he filed with the electoral body INEC while applying for office.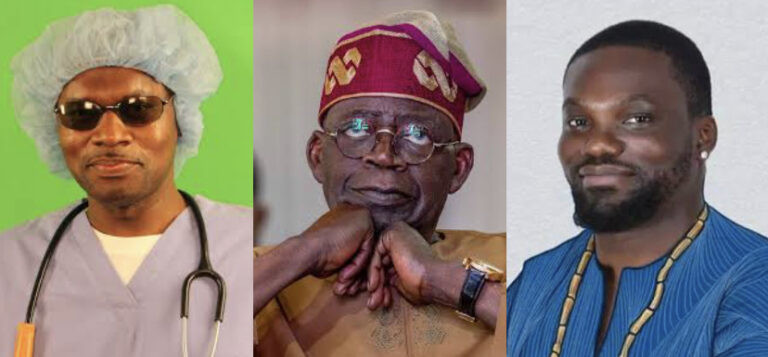 Mr Okonkwo said it wasn't the first of his shows to be taken down. But he re-uploaded the show after blurring out details on Mr Tinubu's Guinean passport data page.
"This wasn't the first time YouTube had done this. I have had videos about Apostle Suleman removed," Mr Okonkwo said.
Expressing concern on censorship by powerful and influential persons often supported by YouTube, Mr Okonkwo said, "Here is my concern for today. Pastors, politicians, and businessmen with questionable characters have reported my channel for using their images or fair use of their sermons or videos.
YouTube typically sided with them and took down the videos.
"It is becoming troubling that politically exposed people feel they can bully content producers and silence them. Some of them use lawyers to intimidate content producers.
The rate of this rampant disruption may have a chilling effect on content producers, some of whom have started to self-censor.
These trends make it more challenging to hold people in leadership positions accountable. And we shall all be losers if nothing is done to reverse it," he added.